The Premier Crossword by Frank A. Longo this week is titled " 'How About Hat!' " and by the time I arrived at the third long answer it became apparent that the theme involves phrases which include the names of different styles of head wear. In the end we have these theme answers:
23a - PROTEIN
SKIMMER
(Device used ins salt water aquariums)
32a -
BUSBY
BERKELEY ("For Me and My Gal" director)
41a - PROFESSIONAL
BOWLER
(Person paid for getting strikes)
60a -
STETSON
UNIVERSITY (Florida school near Daytona Beach)
69a -
PANAMA
CANALTREATY (1977 pact signed by Carter and Torrijos)
92a - TEENIE
BEANIE
BABIES (Collectible Happy Meal miniatures)
102a-KENTUCKY
DERBY
(Annual May race)
115a-GOESOVERTHE
TOP
(Exceeds limits (or what each of this puzzle's theme items does?))
Who knew there were so many different styles of hats? Some were very familiar to me - it was Bowler that gave away the theme - and those were helpful in solving the puzzle. For example once I had Stetson in place I could pretty much infer the university part even though I have never heard of that particular institution of higher learning. On the other hand, I didn't immediately recognize Skimmer as a type of head covering but it was the only thing that seemed to fit the clue. I totally blanked on Busby - in fact until I googled post-solve I wasn't certain which of two parts of the director's name represented head wear. As it turns out I should have known it because it's the famous cover of the Palace Guard in merry old England: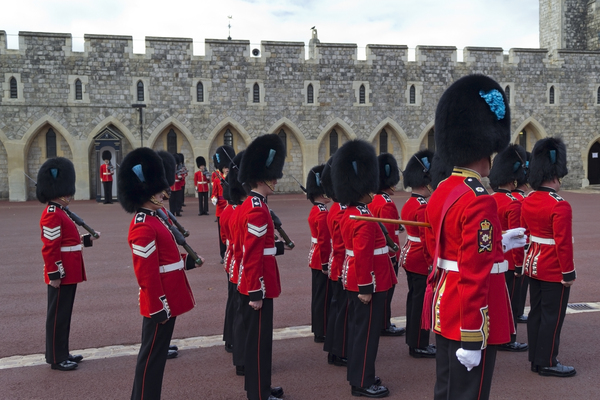 I guess my final assessment of the theme would be "unexciting"- my one moment of "AHA" (70d - Finder's cry) came at the very end of the grid, upon discovering that Frank had sneaked one last hat type into the reveal answer at 115a - a doff the cap to him for that pleasant little surprise.
There were a few features of the non-theme fill that caught my fancy. For instance, having YIDDISH (20d - Like "kvetch" or "schmear") and KIBITZERS (83d - Unwelcome advice givers) in opposite corners of the grid was smile-producing for me (and I especially like that he didn't cross-reference them in the clues which he might easily have done). Learning that PEENED (17d) means "Flattened by hammering" was fun because I work in a hardware store and I knew "peen" only in connection with "ball-peen hammer", not as a verb.
There were a couple of spots that gave me trouble, notably in the bottom-left corner where SEURAT (97d - Painter Georges) crossing AUGUSTE (107a - Artist Renoir) gave me fits (and some solvers may not know Singer Ricky SKAGGS (96d) which could really complicate things down there); and the top-right corner where I finished up - I had misspelled ATTILA (16d - Hun name) and I did not know the Endive type ESCAROLE (13d) so Spanish conquistador Hernando) CORTES (25a) and MARTINA (29a - Tennis' Navratilova) remained hidden for a long time. It all became obvious when I spotted
Atilla
sitting there grinning with delight at the mayhem he (or I) had created.
I have nothing MORE (2d - Further) to add so I'll leave you with this: